Opportunities To Support Us At No Cost To You
Reuben's Room is an authorized charity with Amazon through their Amazon Smile program where shoppers can donate to the charity of their choice. To learn more about this program, and how you can donate .05% of what you spend to Reuben's Room, go to smile.amazon.com. Note: in order to donate to a charity via smile.amazon.com you must always go to Amazon via the smile.amazon.com address. You will also find our Amazon Wish List if you choose to support us in that manner.

D&W and Family Fare have a "Direct Your Dollars" program.
Do you shop at any of these stores? If you do, please start saving all of your original receipts for your purchases, bundle them up, and send them to us. For every $150,000 in receipts that we collect Reuben's Room will get a $1,000 donations from SpartanNash! It may seem like we can never reach $150,000, but the program is open ended, meaning we can continue to collect forever! And with your help, we know we can do it. Especially when you tell all your friends and relatives and they join the effort!
So, start shopping and bundling and send those receipts to our P.O. box:
Reuben's Room Cat Rescue and Sanctuary
P.O. Box 140201
Grand Rapids, MI 49514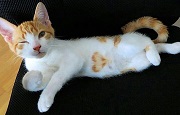 People who love cats have some of the biggest hearts.
Just in case you are wondering. . .
Why we need your help to keep the rescue going
Reuben's Room has a senior program and a no-kill policy. Since we adopt to senior citizens, our cats sometimes come back when that senior passes away or can no longer care for their cat. Those cats are often senior cats.
All rescues have the expense of the day to day cost of maintaining the rescue but because of our policies, we often have a number of cats that need special supplies due to health reasons, things like special food, fluids, dentals, and extra visits to the vet. Those special needs must be met.
We are proud of our programs and policies. We believe in meeting ALL of the needs of our felines regardless of the age or health. But our policies mean that we have to absorb costs that other rescues do not. It is only with the help of our supporters that we are able to meet those needs.
PLEASE CLICK ON OUR DONATE BUTTON TO SUPPORT THE CATS!
(you must click on the credit card symbol in order for this to work)
You may also send your donations (no matter how big or small) to our address:
Reuben's Room Cat Rescue
P.O. Box 140201
Grand Rapids, MI 49514
Thank You!