Opportunities To Support Us At No Cost To You

SpartanNash has discontinued the "Direct Your Dollars" program where store receipts were submitted. A big THANKS to many of you for sending receipts to us over the last few years where we were able to receive generous donations from SpartanNash through this program. Since this program has been discontinued we no longer need store receipts to be sent to us.
However there is another program offered by SpartanNash food retailers of the Our Family brand that will allow us an opportunity to continue to receive donations to support our cause.
OUR FAMILY DIRECT YOUR LABELS PROGRAM
Help us earn money through the Direct Your Labels™ program! We're collecting Our Family® labels.
For every 500 labels we collect, we will earn $25 – and there's no limit to the number of times we can earn the reward - especially when you tell all your friends and relatives and they join the effort!
To participate in the Direct Your Labels™ program, simply clip and save the UPC barcode on every Our Family® brand product you purchase at D&W, Family Fare, and other fine Spartan retailers. For every 500 UPC barcodes we collect, we will earn $25 from SpartanNash, the company that makes and distributes the more than 2,000 Our Family® brand products with national brand quality at a lower price.
So, start shopping and send those Our Family brand UPC barcodes to our P.O. Box:
Reuben's Room Cat Rescue
P.O. Box 140201
Grand Rapids, MI 49514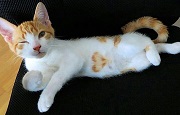 People who love cats have some of the biggest hearts.
Just in case you are wondering. . .
Why we need your help to keep the rescue going
Reuben's Room has a senior program and a no-kill policy. Since we often adopt to senior citizens, our cats sometimes come back when that senior passes away or can no longer care for their cat. Those cats are often senior cats.
All rescues have the expense of the day to day cost of maintaining the rescue but because of our policies, we often have a number of cats that need special supplies due to health reasons, things like special food, fluids, dentals, and extra visits to the vet. Those special needs must be met.
We are proud of our programs and policies. We believe in meeting ALL of the needs of our felines regardless of the age or health. But our policies mean that we have to absorb costs that some other rescues do not. It is only with the help of our supporters that we are able to meet those needs.
PLEASE CLICK ON OUR DONATE BUTTON TO SUPPORT THE CATS!
(you must click on the credit card symbol in order for this to work)
You may also send your donations (no matter how big or small) to our address:
Reuben's Room Cat Rescue
P.O. Box 140201
Grand Rapids, MI 49514
Thank You!